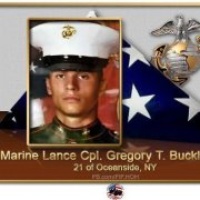 Tracy B.
40 years old
Female
Single
Interested in Guys
Verifications

560 friends
Hey, I'm Tracy Buckley
"Character is doing what's right when nobody is looking." - Congressman J.C. Watts "Vision without action is a daydream."- John Feal (www.fealgoodfoundation.com) "Make decisions from your heart and use your head to make them work." ... a friend.
From
High Fives
OH NO... No High Fives yet
Attend events to start slap'n skin with the new friends you make.