Lunch Beat Oakland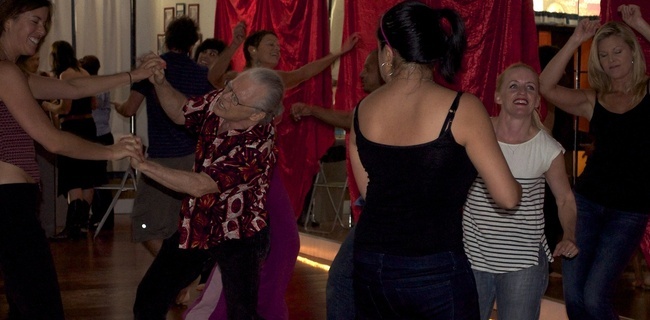 Let's: Get your BOOGIE on for a lunch hour DANCE PARTY. FUNKY LIVE MIX of life-changing electronica by DJ RHYTHMYSTIC. Enjoy a light JAPANESE lunch with us, or take it with you.
We'd love to host: YOU if you love to DANCE and EAT GOOD FOOD and want to BREAK FREE from your lunchtime routine.
http://cwbg.co/RFt9w3
Link:
The Rundown
Tickets are all inclusive (as with all Chowbunga Pop-ups)
Last Minute Dancers
Dancing Only - $10 Cash at the Door

ERA Art Bar and Lounge
19 Grand Ave at Broadway
Oakland, CA

GROOVY DANCERS, FUNKY BEATS, YUMMY FOOD
Yep! Lunch and dancing in the middle of the day. Its time has come. Drop everything for an hour, DANCE, DANCE, DANCE, and eat delicious nutritious food! (or take it with you)

ENJOY:
* one hour of FRESH FUNKY BEATS by DJ RHYTHMYSTIC
* DELICIOUS JAPANESE FOOD from B-DAMA
* and a DANCE FLOOR FULL OF FREEDOM LOVING DANCERS ... just like you.

The water will be flowing for free!

The dance floor is always alcohol-free.
Contribution Levels
$13 Hungry Dancer:

Yummy Japanese Lunch from B-Dama includes:
Edamame
Assorted Onigiri --rice "balls" with assorted fillings: Ume, Spicy Tuna, Salmon, Tuna, Tsukemono (mixed pickles), Natto (fermented soy beans)
Assorted vegetable rolls
Miso Soup

$9 Dancing is Food Enough:

An Hour of Dancing Feeds Me So I Will Pass on Lunch
YOUR MOST IMPORTANT BUSINESS LUNCH
By promoting dancing for an hour mid-day, it becomes possible to fully embody playfulness, participation and community. Uplifted, you create magic in the rest of your day, and Lunch Beat becomes your week's most important business lunch.

Rule #1 If it's your first time at Lunch Beat, You have to dance!
Lunch beat video
Superheroes

About your Lunch Beat Oakland Host:

Comments